I was looking for some inspirational CF videos and was coming up pretty blank in comparison to the last one I posted. Looks like I'm going to have to create my own after I get an HD webcam for this baby. I did, however, find this 2008 CBS Nightly News story about a CF marathon runner. My thought after the jump…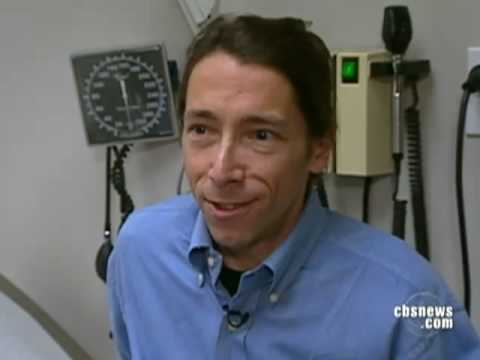 I can't really remember the last time I "knew" someone who died from CF. She was a moon-faced 10 or 12-year old girl that went on a CF tobogganing day with some group of Ohio CFers when I was about the same age.
We had a local golf star here in Tampa, Mallory Code, who played for the University of Florida and a lot of my family friends knew her from their relationship with her parents, but I only got to know her brother, whom we used as a financial advisor last year. I don't even know if she was on the list for transplant – all I know is that she was on O2.
Even Fatboy has a soft spot in his callous
The idea of this long list of people on my blogroll getting thinner is not something that brings my anything but callousness to the bloody disease, but to be callous to the disease is to be callous to the people. I've been fine doing that for over 30 years now. I did CF summer camp once. I hated it. Those kids were freaks. I didn't want to be a freak. I played baseball on a competitive team, for crying out loud.
Out of these people on the blogroll, we have transplant recipients, transplant list patients, parents of CFers, CFers who are always sick, but not on the list, and people who are exercising and almost leading a normal life. I've got a warning to all of you, though: don't you go dying on me. I don't like death in the sense of other people dying, and I'll let you in on a little secret why: I've never lost anyone close to me. No one.
I don't like people, in general
I would say that a good 30% of my reluctance to start anything CF-related on the Internet was an acute fear of becoming attached to people who were like me. Sure, we're all different with our status at the moment and how we react on IVs, but we all share the same prognosis until a cure is found. Unless we get a transplant, we know what is coming – we are on a railroad track in a tunnel. We will either make it through to the other side where the cure is, or we will be receiving new bodies after these get mangled up in a horrifying crash.
Fatboy's grassroot's motivational/support plan
Here is what I'm going to do for the blogroll in an honest and desperate attempt to encourage one another is to color code people and place them into separate blogroll lists. I think this will help the exercisers with accountability, the sick ones get the attention and comfort they so desire, and allow us to look up to and lift up the recipients in our thoughts and prayers, like we are for Piper Beatty this week. By seeing the list with nice colors, it will remind us to go give them a visit. Who doesn't want extra attention when something is up, right?
Please let me know if you want to be added to my blogroll and aren't there already. I will be categorizing based on:
living life okay – plain
a relative of someone with CF – pink outline (for love)
waiting for lungs – purple outline
got new lungs!!!! – green outline
I realize that this will be a lot more work for me to try to keep up with your conditions, so please reciprocate and visit often to shoot me an update if I have you marked incorrectly because you've gone on/off IVs or something.
I have big plans for Article #100 coming in a week or so, but I'm not sure everything will be in place, so I'm starting with this. Whenever my big plan is ready and paid for, I promise you will enjoy it.
This is a call to arms. Get on the blogroll with your status, subscribe to the RSS or the e-mail notification of my articles, and make sure you're following @cffatboy on Twitter to stay abreast of everyone's latest.